Graphic Design, Art Direction, Visual Communication
2021 ––
UX Design, Look & Feel

Reroute Migraine Relief

---
In Spring 2021,
---
2021 ––
UX Design, Look & Feel
Trudhesa Patient Website
---
Our design team at JUICE embarked on the journey to create a look & feel for Trudhesa's high-tech migraine delivery POD. The product is a device that delivers medication (dihydroergotamine mesylate) via nasal absorption. It is a breakthrough technology because of the speed at which it delivers the medication – hence its slogan.
This was an exciting challenge as a result of the client's desire to have a website that was sleek, high-tech and a fusion of sophistication and futurism. The brand's gold, lavender and gray color palette (which had been previously developed at the agency) lent itself seamlessly to their desired approach, but it was up to our team to take the brand a step further by selecting the correct imagery, typography and layout.
The final result was a website and digital assets that could be simply described as modern, refined and luminescent. Visit the live site at
trudhesa.com
.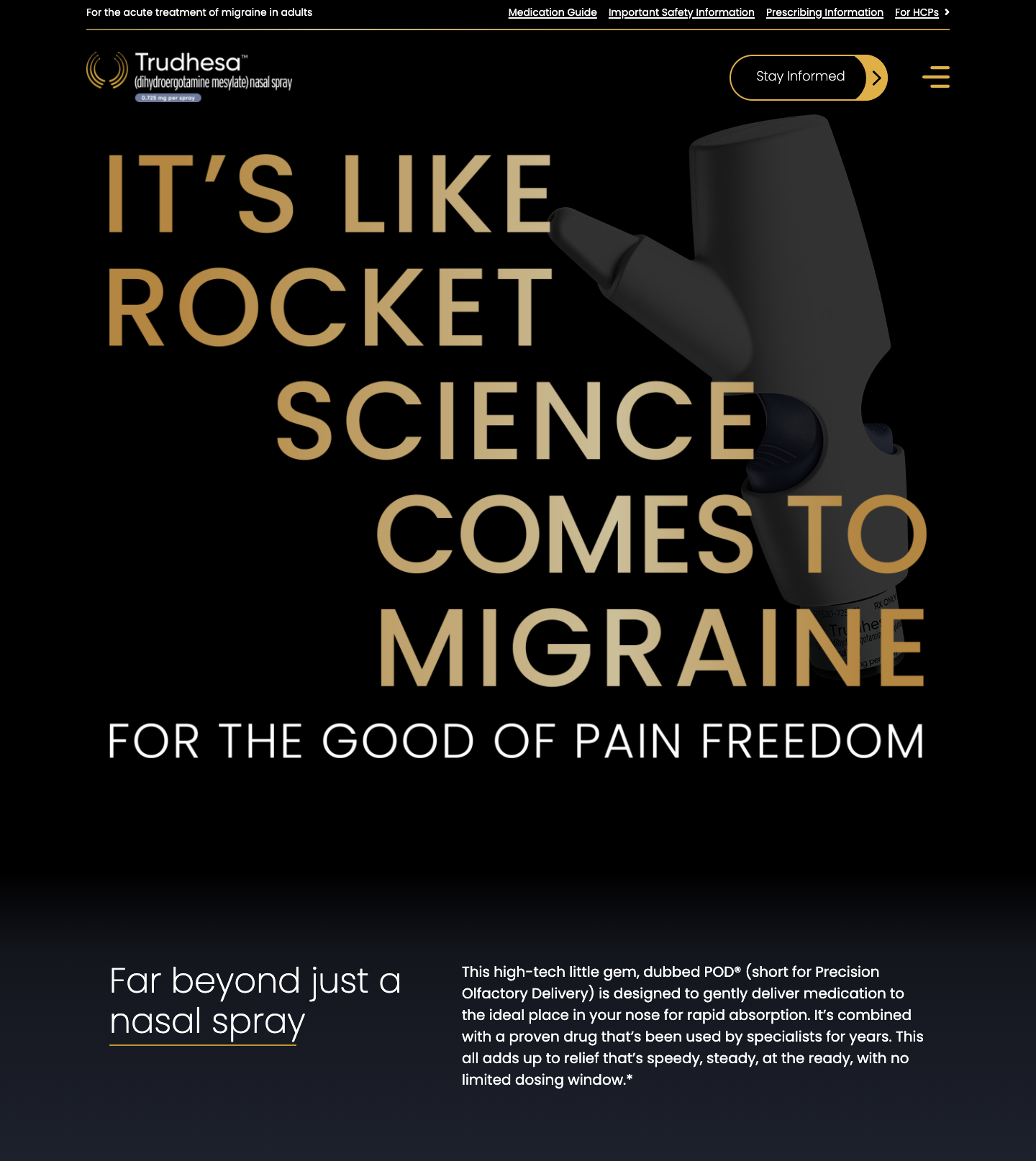 ---
Early layout developments of Trudhesa site.
---
---
2021 ––
UX Design


Telix Patient & HCP Websites
---
In 2016, Liz Bonawitz, Patrick Shafto and Vanessa LoBue fused their passions of researching how children learn by teaming up on a two-year $300K National Science Foundation (NSF) grant—along with a $75K Rutgers University-Newark (RU-N) Chancellor's SEED grant—to create a Mobile Maker Center (MMC) to deepen their understanding of the topic, connecting them with diverse communities in Greater Newark while bolstering STEM learning.

Students and faculty from the graphic design program met with the trio at Express Newark to merge ideas and create a seamless identity system that captures the core values of the Maker Center. The final result was a interchangeable, icon based system where each letter of the logo was paired with one of the core values - Learning, Making & Feeling. The Mobile Maker Center and its branding system currently live at the Newark Museum in Newark, NJ.