Natalia (she/they) is a Brooklyn, New York based graphic designer and art director with 6 years of experience under her belt. She is a senior designer at minds + assembly, and is currenly pursuing her graduate degree in UX design at the Maryland Institute College of Art.
She is passionate about creating functional pieces across both print and digital mediums that communicate clarity and strategic thinking, while approaching the process with a unique, dynamic and experimental touch.
Contact ︎︎︎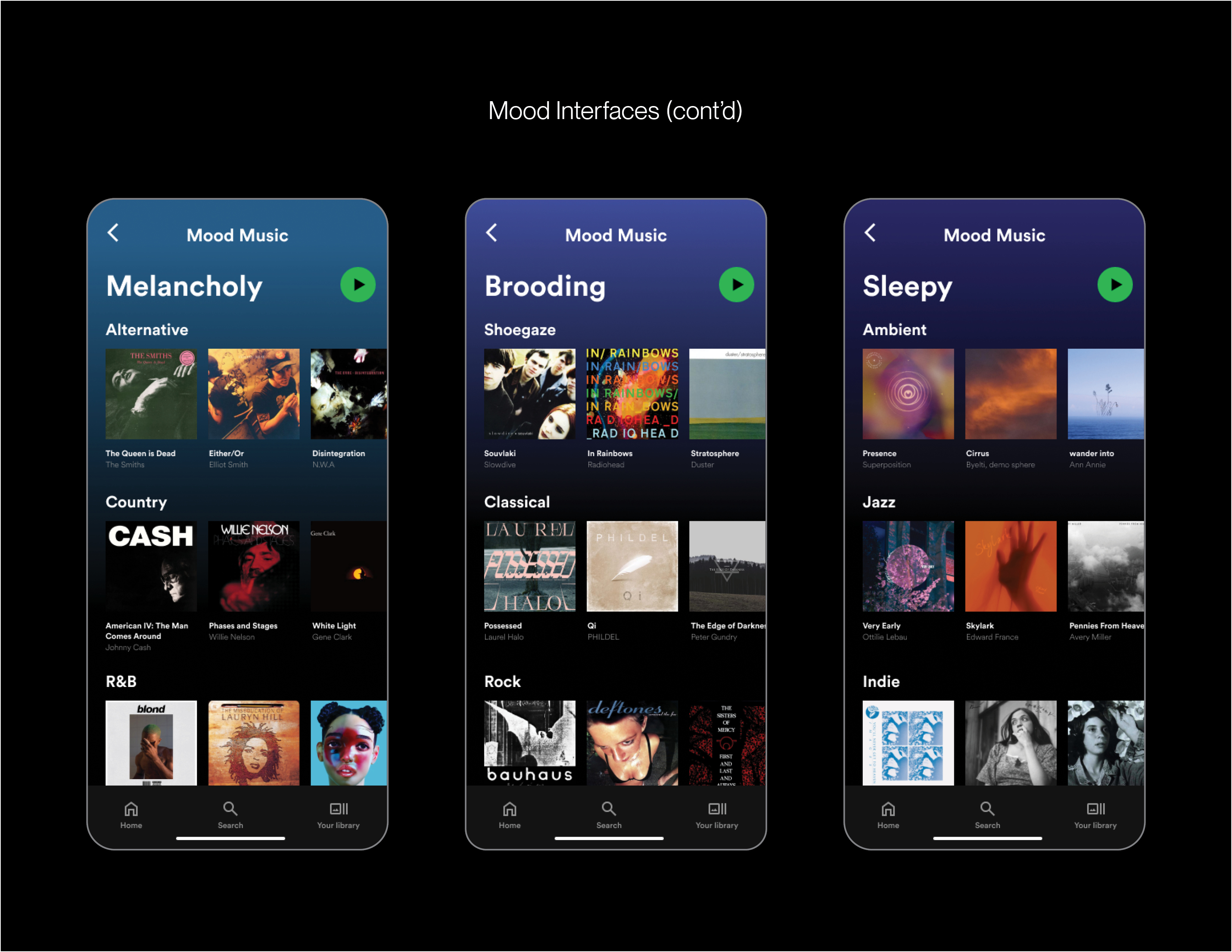 ︎︎︎ UX/UI Research & Design
︎︎︎ Branding & Identity Systems
︎︎︎ Wireframing & Prototyping
︎︎︎ User Testing

When researching what kind of parameters people use to locate and discover music on Spotify, some common approaches are browsing genre, playlists, and related artists. There are dozens of other ways to discover music, but in this case study, Natalia proposed a new feature called Mood Music where users are able to access music profiles based on mood.

Users are prompted to enter the digital landscape through a pop-up on the Spotify homepage, where they are brought to a visually dynamic landscape with 12 moods they can select from. With accessbility in relation to color being considered, Natalia integrated a toggle mode into the feature where users can go between an open landscape or a stacked version. Once a mood is selected, users are then given various music genres that lyrically or sonically associate with the selected mood. Users can also hit a shuffle play button, where songs of various genres play in a continuous stream.

The branding of the Mood Music feature required an exploration of the association between mood and color. The challenge specific to this feature was developing a color palette that complemented the existing Spotify branding, didn't deviate too far from common mood/color associations, and felt refreshing and unique to the brand. The final result was a selection of 12 colors that communicated a sense of moodiness & intensity through cool and predominantly muted tones.