Natalia (she/they) is a Brooklyn, New York based graphic designer and art director with 6 years of experience under her belt. She is a senior designer at minds + assembly, and is currenly pursuing her graduate degree in UX design at the Maryland Institute College of Art.
She is passionate about creating functional pieces across both print and digital mediums that communicate clarity and strategic thinking, while approaching the process with a unique, dynamic and experimental touch.
Contact ︎︎︎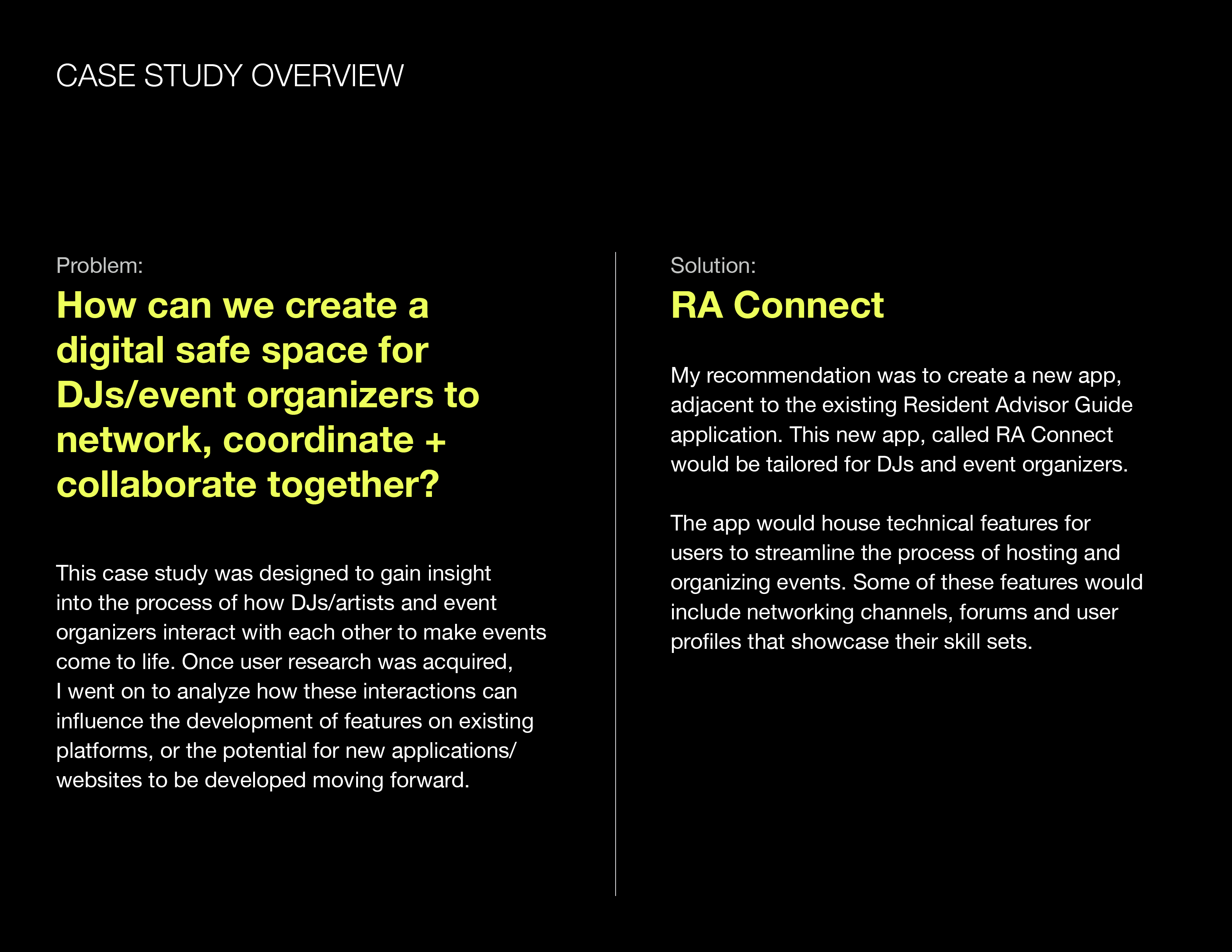 ︎︎︎ UX/UI Research & Design
︎︎︎ Branding & Identity Systems
︎︎︎ Wireframing & Prototyping
︎︎︎ User Testing
In January 2022, Natalia began a case study featuring
Resident Advisor's
mobile app, RA Guide. She was curious of taking RA Guide's existing application and creating a new space for members of the scene to network. She started the research process by posing the question – how can we create a digital safe space for DJs and event organizers to network, coordinate and collaborate together? From January to March, she researched and studied her target demographic and the current landscape in which they connect with other members of the scene.
Based on the data acquired from the study, the recommendation was to create a new social app adjacent to RA Guide specifically tailored for DJs, event organizers and various workers in the scene. The app, called RA Connect, would be linked to their existing RA Guide accounts, but would house more technical features for users to streamline the process of hosting & organizing events, like networking channels, forums + user profiles that house their skills.

The process of designing the RA Connect mobile app required developing an interface that integrated a new color palette & design elements that felt similar enough to RA Guide but were distinct enough to be an extension of the brand.